The Changing Nature of Indian and Canadian Federalism
Centre for India-Canada Studies and Forum of Federations jointly organized a webinar on 'The Changing nature of Canadian and Indian Federalism'- on 24th February 2022, The webinar was moderated by Prof. Rekha Saxena having associated with Centre for India-Canada Studies and Forum of Federations both. The speakers were:
Geoffrey Hale, Professor, University of Lethbridge, Canada
lan Greene, Professor, York University, Canada
Kathy Brock, Professor, Policy Studies, Queen's University,
Rupak Chattophyay, President, Forum of Federations, Canada
Prof Suman Kundu in his introduction to the functioning of Centre for India-Canada Studies introduced the audience to the work centre has been doing over the years. He highlighted the role of previous members and directors of the centre and emphasized how centre is efficiently engaging academician from two countries. The centre will be soon completing 30 years in March 2022. Prof. Suman Kundu invited Prof. Rekha Saxena to begin the discussion and invite reputed speakers to present their respective topics.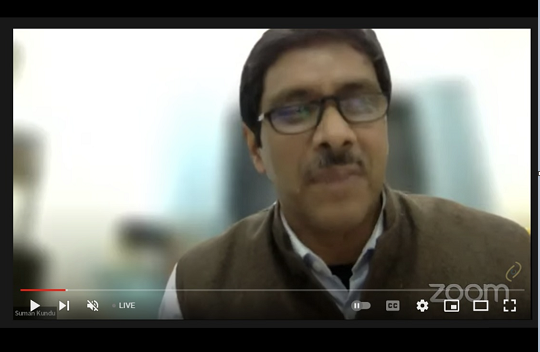 Prof Rekha Saxena while introduced the speakers and in her opening remarks highlighted how federalism in India and Canada has been of great interest to scholars. She emphasized that both the countries stand as a remarkable case of gradually and successfully moving towards greater federalisation. Prof. Saxena in particular outlined the analytical framework for the discussion and demarcated how India and Canada has a lot to offer when it comes to academic exchange of federal ideas. With her remarkable expertise on both Indian and Canadian federalism she inaugurated the webinar and invited all the speakers to make the best possible use of the opportunity of having audience from Canada and India. Below are the some important quotation and remarks of speakers from their presentations:
"One of the things we have seen recently in Canada and India, is a challenge to democracy and our core democratic values. This is happening all the time – as there is such a tight link between democracy and federalism."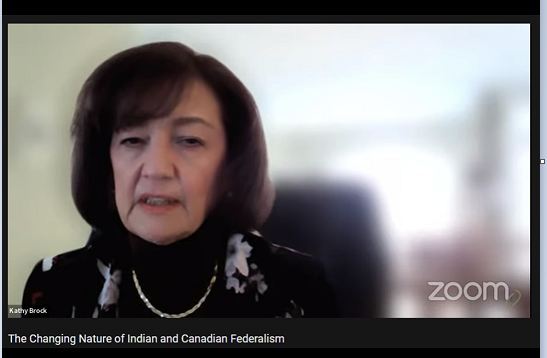 "Canada is one of the world's most decentralized federations. Both in terms of its intergovernmental division of power and its fiscal arrangements. Both Canada and India have seen considerable trends towards decentralization during the past years with the emergence of extensive networks of intergovernmental transfers."
"The Indian constitution was inspired by and improved upon certain aspects of the Canadian constitution. However, in the last 75 years, the institutions of Canada and India have evolved in different ways to adapt to changing circumstances in their countries."
"It is fitting to reflect upon the changing nature of Canadian and Indian federalism on this 75 year anniversary of India's independence. A lot of the Indian federal system is inspired by Canada, and certain aspects of the Canadian system was inspiration for India's early constitution makers."
Prof. Yamini Gupt in her concluding remarks thanked the speakers and summarized that their presentations were interesting and relevant for further research on federalism in India and Canada. In her vote of thanks she was positive that Forum of Federation and Centre for India-Canada Studies will work together and facilitate new dialogues and research.
Center for India Canada Studies, University of Delhi in Collaboration with Forum of Federations, Canada organised a Webinar on " The Changing Nature of Indian and Canadian Federalism" on 24th February 2022.
The CICS organized its first event of the year 2022 on January 11 (1- 4 pm IST).
The focus of the event was on Researching communication during police questioning minors, emergency medicine consultation and business communication: The challenges and opportunities of interdisciplinary research between linguists and practitioners in the field of institutional communication. The event showcased five distinguished speakers, Dorien Van De Mieroop, Heidi Saelets, and Antoon Cox of KU Leuven, Belgium; Yvan Leanza, from Laval University, Canada; and Mr. Danny Sluyts, a former officer from Belgian Federal Police. Five speakers, all distinguished in their areas had engaging presentations. The team members with different specialization works in close collaboration with each other and with the legal and police actors and with hospitals. (Click for details)
The event began with the opening remarks by the Director, Prof Suman, Kundu. The event and the speakers were introduced by Shobha Satyanath (Department of Linguistics). Professor Kundu welcomed Mr. Colin Shonk, Head, Advocacy and Public Diplomacy, the High Commission of Canada, New Delhi, who was a special invitee to the event. Also in presence were Ms. Archana Mirazkar, a Senior Media and Communications Officer at the High Commission of Canada. Mr.Shonk also briefly addressed the audience.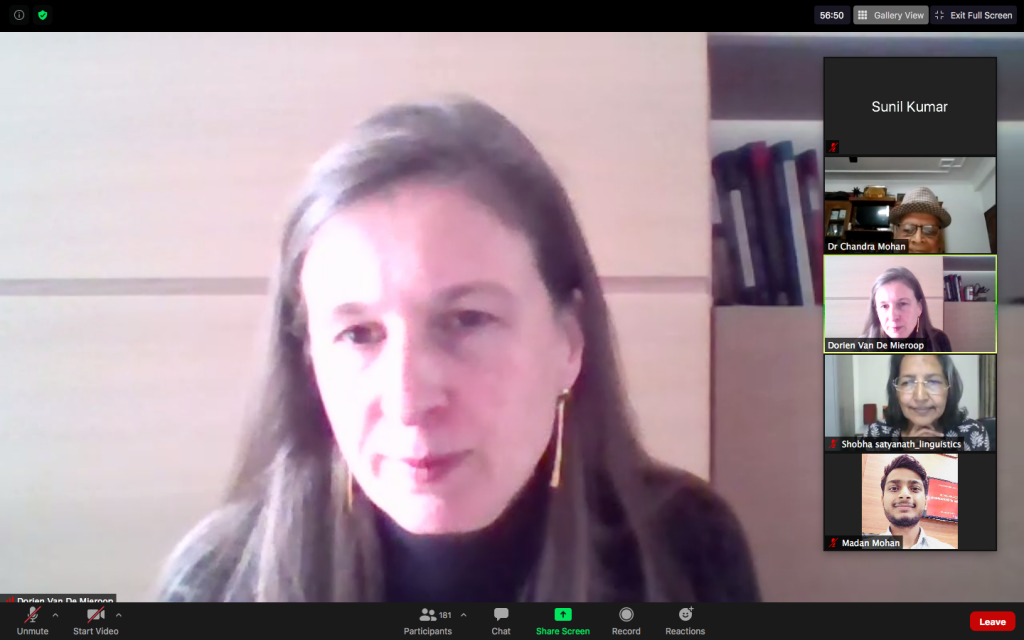 The event was attended by nearly 200 people (196 exact). Some of the major highlights of the event were the guidelines for questioning minors (whether as victims or witnesses); possibilities of miscommunication in emergency healthcare settings and analyses of persona and authority in business communication settings. The event ended with thanks to the speakers and the audience.
Impact of Covid-19 on Various Sectors of the Economies of India and Canada
Centre of Canadian Studies is going to organize a series of webinars on impact of Covid-19 on various sectors of economies of India and Canada.
The impact of Covid-19 in India has been substantial and broad-based. GDP contracted sharply in 2020 Q2 (-23.9percent year-on-year) due to the unprecedented lockdowns to control the spread of Covid-19. The pandemic had a deep impact on the Canadian economy, leading it into a verge of recession. The government implementation of social distancing rules had resulted in limited economic activity in the country. This resulted in companies started considering mass-layoffs of workers, which was largely prevented by the Canada Emergency Wage Subsidy. But despite these efforts, Canada's unemployment rate reached 13.5% in May 2020, which is highest since 1976. Both the government of India and Canada took several steps to minimize the impact of Covid-19 on their respective countries. Some of the common steps taken by governments to mitigate the virus includes: – travel
restriction, social distancing, declaration of states of emergency, closures of non-essential businesses in some provinces. Both the government have released monetary packages along with that they have altered their fiscal as well as monetary policies to reduce the effect of the pandemic on their economies.
The inaugural webinar on 9th November 2020 focused on:
Covid-19 Strategies and Experience of India and Canada.
(In association with Department of Finance and Business Economics)
Chief Guest: Shri Ajay Bisaria (IFS, High Commissioner of India to Canada)
Inaugural Address: Professor P.C. Joshi (Vice-Chancellor (Acting), University of Delhi)
Introduction to Centre for Canadian Studies: Professor K.R.G. Nair (Founder, Director of Centre for Canadian Studies)
Moderator: Professor Suman Kundu (Director, Centre for Canadian Studies and Director South Campus, University of Delhi)
Impact of COVID 19 on Labour: Issues and Policy in India and Canada on 4th December 2020
(In association with Department of Finance and Business Economics)
Welcome Note: Prof. Suman Kundu, (Director, Centre for Canadian Studies and Director South Campus, University of Delhi)
Speaker 1: Prof. Paul Gomme (Concordia University, Canada)
Speaker 2: Prof. Arup Mitra (Institute of Economic Growth, Delhi)
Speaker 3: Ms. Bharati Chaturvedi (Director, Chintan Environmental Research and Action Group)
Covid-19 Diagnostics, Therapeutics and Vaccines – Initiatives in India and Canada 14 December 2020
(In association with Department of Biochemistry and Department of Finance and Business Economics)
Welcome Address: Prof. Alo Nag (Head, Department of Biochemistry, Dean FIAS) Chief Guest Professor P.C. Joshi (Vice-Chancellor (Acting), University of Delhi)
Keynote Speakers:
Professor Vivek Goel, Dalla Lana School of Public Health & Special Advisor to the President of the University of Toronto President-elect, University of Waterloo CANADA
Title of the Talk: "COVID-19 Response and Research in Canada"
Professor Shahid Jameel, Director, Trivedi School of Biosciences, Ashoka University. Former Scientist, ICGEB, New Delhi, Former CEO, Welcome Trust DBT India Alliance INDIA
Title of the Talk: "Covid-19 in India"
Moderator: Professor Suman Kundu (Director, Centre for Canadian Studies and Director, South Campus, University of Delhi)